22 OCT 1946: Post World War II and NX73515 Corporal James Ronald Sewell, 10th Australian Bomb Disposal Platoon, British Commonwealth Occupation Force, was awarded the George Medal for his rescue of Japanese survivors after an explosion in a boat carrying high explosives.
Australians were allocated the largely rural and severely devastated prefecture of Hiroshima. Huge stocks of war material, including chemical agents and tons of ordnance, had to be rendered safe and disposed of or destroyed.
Thousands of tons of material were located and destroyed, including approximately 10,000 depth charges, 1290 torpedoes, 278 midget submarines, 100 x 18″ and 100 x 16″ naval guns, and hundreds of guns from 8″ to 14″.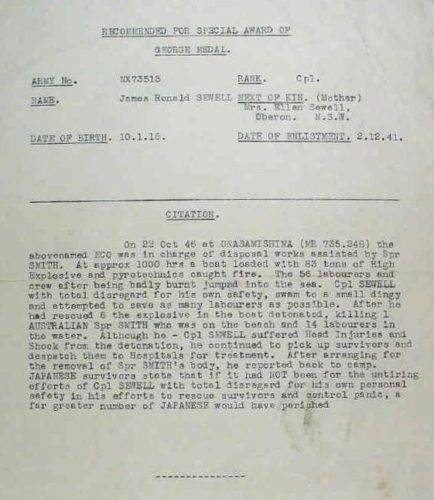 Caches of small arms and high explosives were also destroyed. The 10th Australian Bomb Disposal Platoon was responsible for destroying live armaments and many high explosives. These duties were considered the most dangerous undertaken by BCOF personnel. A George Medal was awarded to Corporal J R Sewell of this Unit for exceptional bravery under hazardous conditions in October 1946.
A year later, as Sergeant Sewell, he was killed whilst delousing a mine on Shikoku.
At its peak BCOF was responsible for the control of 20,000,000 Japanese in an area of 22,000 square miles, comprising five western prefectures, Shimani, Yamaguchi, Tottori, Okoyama and Hiroshima, and the whole of Shikoku Island. Photo: George Cross Park, Canberra.