Great to see organisations recognising ANZAC Day and spirit on events like these. Young Stan Gurney VC, was a serious cyclist prior to his enlistment and subsequent exploits … Arthur Stanley Gurney (1908-1942), clerk and soldier, was born on 15 December 1908 at Day Dawn, on the Murchison goldfields, Western Australia, fourth of five children of George Gurney, miner, and his wife Jane, née Roberts, both from South Australia.
Educated at the local state school and at Stott's Business College, Perth, Stan began work with a real-estate agent. From June 1927 he was employed as a clerk and meter-fixer with the City of Perth Electricity and Gas Department.
An enthusiastic cyclist, he won a number of road-races and officiated at fixtures conducted by the League of Western Australian Wheelmen.
Quiet, unassuming, 5 ft 8 ins (173 cm) tall and of solid build, Gurney stated that he was an Anglican when he enlisted on 6 December 1940 in the Australian Imperial Force. In July 1941 he embarked for the Middle East and on 12 September joined the 2nd/48th Battalion at Tobruk, Libya; the 2nd/48th was sent to Palestine in October and to Syria in January 1942.
As part of the 26th Brigade, 9th Division, the battalion was deployed to Egypt in June to meet the threat posed by Axis forces pushing east towards El Alamein. Tel el Eisa lay approximately 10 miles (16 km) to the west, near the coast. The division was ordered to mount an attack on 22 July; the 2nd/48th's role was to capture Tel el Eisa Ridge.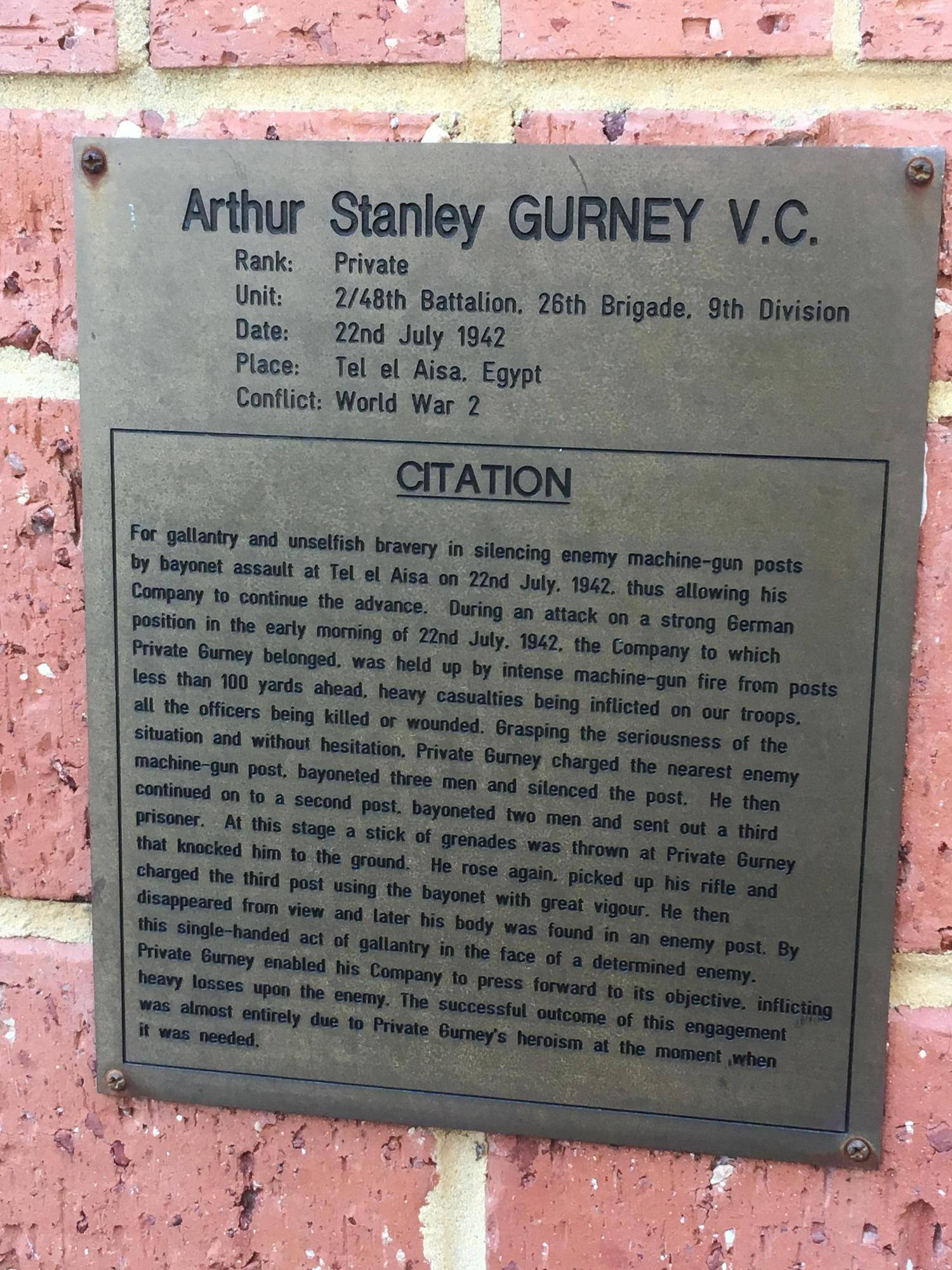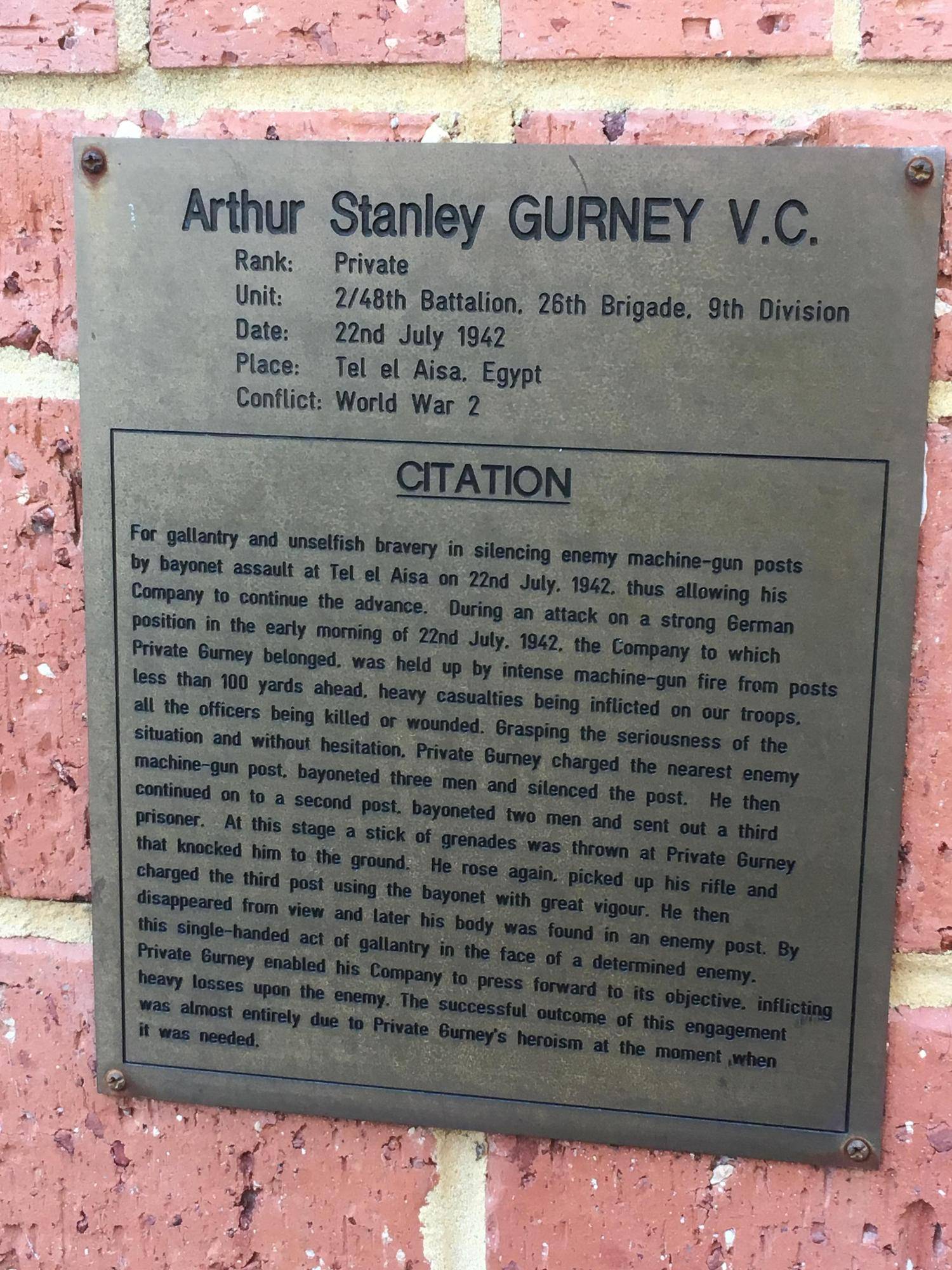 Major General Sir Leslie Morshead protested to the British commander-in-chief, General Sir Claude Auchinleck, that the plan was ill-conceived, pointing out that inadequate support would be provided. Because the 26th Brigade had to hold its existing ground, the 2nd/24th and 2nd/48th battalions could each spare only two companies for the assault and these would lack reinforcements. Yet the operation went ahead.
The 2nd/48th's 'D' Company, with Private Gurney in No.17 Platoon, crossed its start-line about 6.00 a.m. on 22 July, came under intense fire and began to take heavy casualties. Using a captured post as a fire-support position, 17 Platoon pushed on. Gurney carried a cumbersome Boyes anti-tank rifle. His platoon commander, Lieutenant Jim Wearing-Smith, recalled: 'Stan came up to me and I said, "For Christ sake drop that bloody Boyes, you'll do better with a rifle!"'
Within the next few moments Wearing-Smith was critically wounded and the platoon sergeant was killed. Carrying a rifle and bayonet, Gurney rushed over open ground through a hail of fire, bayoneted three Germans and captured their machine-gun post. He then charged a second emplacement, bayoneted two of the enemy and sent back one prisoner.
While preparing to attack a third post, he was blown off his feet by a grenade burst. Undeterred, he stormed the position. His comrades saw him 'using the bayonet with great vigour' before he disappeared from view and was killed.
Gurney's body was found and buried in El Alamein war cemetery; he was posthumously awarded the Victoria Cross. In 1994 his family presented it to the Australian War Memorial, Canberra. The Stan Gurney V.C. Memorial Bike Race, held annually in Western Australia, commemorates him. More; http://ow.ly/WGSV30onK4e
Honours and awards related to this article